Splendor – Purity – Simplicity
From the ancient Greek "mesos" meaning in the middle, the Mezzo model was born from a desire to offer cats an exceptional and quality playground. The sisal ropes will be quickly spotted by your cat who will use them to scratch. A large platform above the base allows one or more felines to relax and observe their favorite humans. The Mezzo is undoubtedly the favorite model of many of our four-legged customers.
An exceptional cat product, created in an artisanal and eco-responsible way using natural wood from Quebec, Canada: Arbrasha!
Height: 58'' (147cm)
Width: 30'' (76cm)
Depth: 20'' (51cm)
We recommend using a damp cloth with a mild soap to remove dust (and/or cat hair) that accumulates there.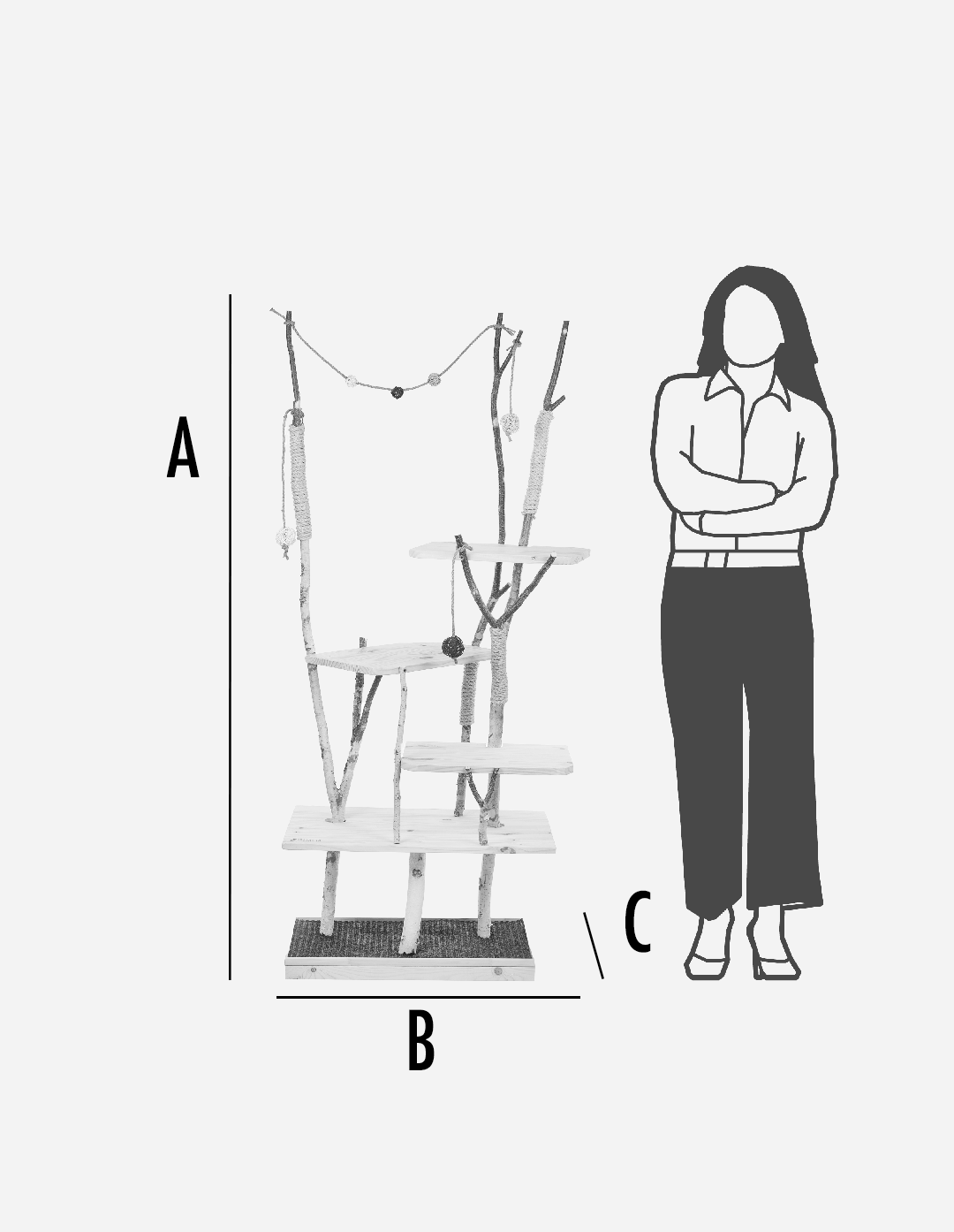 Tested and approved
All our cat trees are designed to suit your little felines and are approved by our faithful Tinder!
Modern design
Each Arbrasha is a unique design produced by hand by an artisan in Quebec. Our designs reinvent feline fun with modern, playful and aesthetic designs.
100% natural wood
Our products combine two species of natural wood, white pine and Quebec birch. Two resistant and aesthetic woods, in colors ranging from creamy white to amber.
sisal rope
Sisal is a fiber extracted from a plant called "agave". Tough, durable and strong, this rope is loved by cats for its look and feel.
Do you give your tongue to the cat?
How and where are cat trees made at Arbrasha?
Each model is handcrafted in Quebec City. Jean, the artisan at Arbrasha, begins by drawing his inspiration, then he assembles the birch branches and finishes by positioning the white pine planks as well as adding playful elements. See each step illustrated in the About section!
Why have a wooden cat tree?
Above all, because it is very beautiful! Indeed, the enhancement of wood allows our products to naturally blend into your environment. Both aesthetic and durable, birch wood and white pine from Quebec harmonize perfectly to create a real work of art! The solidity and aesthetics of wood are incomparable!
Which cat tree to choose for several cats?
Some models such as the Colossus, Grande and Amaka contain more floors and shelves, allowing your large feline family to rest together.
How to maintain your cat tree?
The cat tree requires very little maintenance. We recommend using a damp cloth with a mild soap to remove dust (and/or cat hair) that accumulates there.
How to choose your cat tree?
While everyone's choice of cat tree is unique, your cat's personality (active/quiet, playful/sleepy) can influence our recommendation! Indeed, each model offers specific characteristics that may be suitable for your feline. If in doubt, contact us and we will be happy to help you choose the ideal model!
Each model is built to support the weight of the heaviest cats that jump and play at the same time. We also provide wall brackets to ensure stability!
Your opinions are valuable
Thank you for the Colossus cat tree!
My cat loves it and doesn't want to leave it anymore!!! 💝
Thanks again for the great work. It's very solid, beautiful and the cats love it!
My cats have so much fun in the tree!
A huge thank you for this wonderful playground!
My cat Fleur already loves it a lot 😍